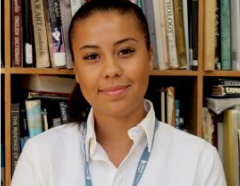 How it started
Ever since secondary school, I have been immensely interested in ICT, which was always the highlight of my school day. I studied Interactive Media at college, which covered photography, game design and the implications of interactive media, such as the legal aspects.
After college I briefly went to university, but I think I rushed into it. I hadn't been educated about apprenticeships, but I loved the fact that you can earn and learn at the same time. A lot of employers are attracted to experience as well as qualifications, so an apprenticeship offers the best of both worlds.
So, I left university and began a Digital Marketing apprenticeship. After that, I decided I wanted to get into the more technical side of IT. I applied for an IT Technician apprenticeship with Tiro, based in a school.
How it went
My role in the school involves many different tasks, from printing exam papers to rebuilding PCs. The role is way more technical than digital marketing, and I have broadened my knowledge on IT as a whole.
The number one thing for me is that I am able to learn whilst on the job. This makes it easier to give real-world examples in my coursework, as I genuinely learn a lot in my role. I enjoy that I can be flexible with my coursework – of course I have deadlines but I never feel like there is too much on my plate. I am given plenty of time during work hours to complete my coursework.
How it's going
I am looking forward to receiving my qualification at the end of it and seeing where that will take me. I have no doubt my apprenticeship will get me wherever I want to go, along with hard work, determination, and ambition.
I have changed since being an apprentice, I am way more open-minded about life options in general. I don't think there is anything I cannot do if I put my mind to it and I have a really positive outlook on my future work life. I have always wanted to run my own business. As well as ICT, I am also very interested in beauty and cosmetics.
I now feel more confident to apply for serious jobs as I genuinely feel I have a good amount of experience in a working environment.
I would strongly urge all school leavers who aren't sure about college or university to look at your options. There are apprenticeships in literally any field of work you can imagine, so really think about what field you want to go in or what you enjoy.