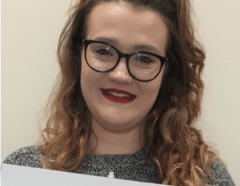 How it started
I worked part time as a sales assistant while studying at my local college. I took A-Levels in Business Studies, Media Studies, Core Maths, and Photography. I particularly enjoyed Business as a subject, so I started to look at job options.
My family knew that university wouldn't be for me, and we'd heard really good things about apprenticeships as an alternative. I liked the idea of working, while also being supported to keep on learning and training.
How it went
I was offered a position at The Pirbright Institute, on a 2-year Business Administration Apprenticeship.
My employer gives me plenty of support to complete my training, which is really important to me.  My family were worried I wouldn't have time to complete the coursework around my job, but that hasn't been the case at all. The way the training elements are structured mean that I'm in work 5 days a week, which allows me to manage my time to suit me.
The job itself is really unique and varied. I do a lot of admin across various IT systems, for everything from keeping training records to raising purchase orders. I also organise business events, such as conferences and seminars. This aspect in particular has helped me build my confidence at work.
How it's going
I love the variety of my job. Every day is different, which makes it more exciting.
I am really engaged in my role and I'm always learning new skills.
I love the event organisation part of my role, so I'm keen to specialise in events after my apprenticeship. I am now much more confident talking to new people. The experience I have gained here has been brilliant, and really prepared me for that next step.