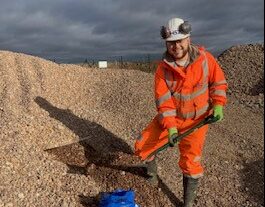 I was 22 when I started my apprenticeship. At the time I thought I was too old, which wasn't the case at all!
Before this I had absolutely no idea what I wanted to do career wise and always felt wasted at other jobs because I never had any passion for them.
I previously worked as a chef, which is a totally different world to working on a construction site, but I do think I took certain aspects of the job such as team working and working under pressure to help in my role now.
My Apprenticeship Experience
I struggled a lot early on in my apprenticeship and to be honest at one point I did honestly think I wasn't going to be able to finish it. Looking back now that would have been a huge mistake!
A big part of me changing things around was my mentor at the time, Luke Townsin who gave me a lot of knowledge in the role I was doing and supported me in both my job and home life (I was about to become a dad for the first time!).
I felt it was very important to have a mentor like him because it gave me the drive to keep learning and improving myself at work and also as a person.
Someone else who I owe a lot to is my tutor from Tiro, Nathan Dixon. He invested a lot of time into me with catching me up on bits I'd fell behind on previously, but also adjusting certain aspects of the apprenticeship to cater more to my learning style.
I found it a lot easier saying things sometime than putting it in to words, so where he could Nathan would always try to do professional discussions over written assignments, and I think this helped me massively.
He was also always at the end of the phone if ever I needed anything and for that I am very grateful for both him and Tiro.
My working environment at Balfour Beatty Vinci has been quite surreal, working on the HS2 project. I've seen some incredible things and been a part of big things too, such as the world's longest box slide, where we slid a 12,600-tonne bridge,165 metres to enable the HS2 line to cross over the Motorway at Marston.
During my apprenticeship I was always made to feel equal with others and shared equal responsibility, often working independently on site and in the lab carrying out UKAS Accredited tests.
My Future
My apprenticeship has been a massive steppingstone in my life and has given me some huge opportunities career wise that I would recommend anyone to do.
I am currently working towards being a Senior Technician, which seems crazy because of not doing the job for too long, but both the project and the apprenticeship has given me all the tools to do so.
I have also completed the Tiro Mentor training course, so I can now share my experience and knowledge with new apprentices coming through on the HS2 project.