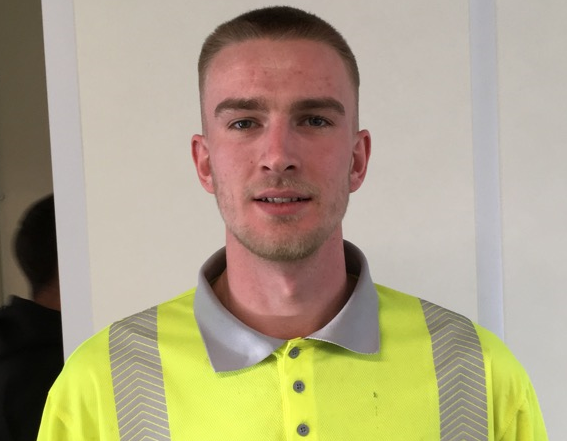 How it started
I'd been pretty successful as a team member in the Morrisons staff canteen. But even though I took a lot of pride in my work, I was fed up and needed a change.
Until I went along to the assessment centre, I'd never even heard of a job like this. I went to an average school, and never expected to amount to much to be honest. I couldn't believe my luck that Tiro and Balfour Beatty spotted some talent in me, and offered me an apprenticeship. I think it was my positive attitude that got me the job.
How it went
I started at Balfour Beatty as a Level 2 Materials Technician apprentice back in February 2016, and went on to do the Level 3 apprenticeship after that.
Balfour Beatty always made sure I had the time to work towards my apprenticeship. The training took up 20% of my working time, but I did a lot of it in week-long blocks, which was really useful.
I doubted myself at first, but my mentor Allen always found the time to help me and answer any questions. He challenged me too, to make sure I was on top of my work. Like a lot of young lads I needed a boost sometimes, and Allen always encouraged me to crack on.
Having a supportive employer like Balfour was brilliant, because they really saw my potential and developed me as an asset for the future – not just cheap labour. I was treated the same as any other technician.
I was over-the-moon when I completed my apprenticeship, with a Distinction! The programme gave me much more confidence, as I'd proved to myself and the rest of the team that I am a great technician. I came a long way as a person during the apprenticeship. It gave me a career and made me feel like I belonged.
How it's going
I am now working as a Senior Materials Technician on the HS2 project. We're creating a one-mile twin bore tunnel under Long Itchington Wood, to preserve ancient woodland. It's the biggest project of its kind in Europe and really exciting to work on.
I love working outside on-site. I wake up for work excited and can't wait to get stuck in. My job is to make sure the work is carried out efficiently and to maintain standards on site. I have the responsibility of signing off paperwork to show that everything's been fully tested and check that everything is above board. I also go on site myself to carry out sampling and testing for the concrete work, in preparation for the tunnel boring machine.
I really enjoy mentoring and training the newer apprentices on site and helping them with their NVQs. It's great to know that I have helped to develop the new teams working at Balfour.
The whole experience taught me some valuable life lessons, and it's given me a career with huge responsibilities. I have really matured thanks to the phenomenal support I've had from the company to progress my career.
I never thought I'd be a senior materials technician in just five years. I'm really looking forward to developing even further in the future – I'd eventually like to become a fully-fledged materials engineer.