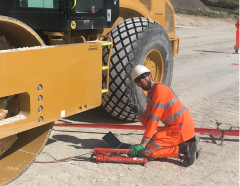 How it started
I'd been working for Sainsburys for almost ten years as a team leader on the food counters, fresh foods, and the produce department, but felt like this industry wasn't for me anymore. I'd always been interested in construction, loved watching programs like megastructures and was always in awe of how such structures were built. Yet for some reason when I was younger never considered it as a career that I could get into.
Back then, after completing my A levels, I didn't feel like further formal education was for me, so I decided not to go to university. Fast forward ten years, I felt like my opportunities to go into a brand-new skilled industry were limited, so I started looking down the apprenticeship route. I realised this would get me the qualifications I'd need while still earning money as I had bills to pay.
I felt like the apprenticeship was the best way forward as you are there, hands on doing the job with a small element of classroom learning. This suits me as I learn best by physically doing things instead of purely being in a classroom environment.
How it went
The apprenticeship was at Hinkley Point C project, which at the time was Europe's biggest construction project. This was one of the things that attracted me to the job to start with.
Going into it, I thought it would be the 'classic' idea of a laboratory with white coats and Bunsen burners, but it really isn't. The work is varied, and every day is different so you're always learning, one day you're in the lab conducting tests then the next you're out on a site testing soils or concrete. The nature of working in construction means the site is always evolving and looks different every time you see it, which is fascinating. I've always had an eye for detail so it comes in quite handy when conducting these kind of tests as one small mistake could mean you having to start over again.
I'm not gonna lie, the training was challenging due to working full time and completing assignments on a regular basis, but BAM were great in giving me the space I needed to study on work time.
The support from my colleagues throughout was fantastic, there was no such thing and a stupid question. Working day in day out with people that have been in this industry for many years made my understanding of the job much simpler. After all, it was such a different industry from what I had been used to for so many years.
For most of the apprenticeship my Tiro tutor, Rhiannon, would deliver the sessions and be my point of contact, she was brilliant and always pushed me to do better and any questions and queries would be promptly answered in person or by email.
During the apprenticeship I gained a lot of confidence not only in my abilities as a laboratory technician, but as a person. I'm more confident with my colleagues as well as the wider team. I can easily communicate between my seniors and the client. I can complete tests required to the correct standard within the timescale given. And, I have a greater understanding of the civil engineering industry.
How it's going
After completing the apprenticeship, I was kept on as a laboratory technician at HPC and stayed there for a further two years. After that I moved on to the Lower Thames Crossing project followed by the M8 Footbridge in Glasgow. I'm now working on HS2 C2-C3 project which is where I see myself for the next five years; as I'm about to be promoted to Senior Laboratory Technician!
I'll be developing my skills and knowledge as there is still a lot to learn, with a view to working my way up to laboratory deputy manager and beyond. With the size of the HS2 project, we'll be taking on a few new apprentices, and I'm looking forward to being part of the process – whether it be a mentor or a smaller role – as I know how important it is for them to be able to speak to someone that's been through the process.
My line manager says that I have an eagerness to learn, always wanting to gain more knowledge and understanding of the testing we conduct, as well as being a friendly, approachable member of the team.
I would recommend doing an apprenticeship if you are a hands-on learner, as every day you'll be getting stuck into the job you are here to do while learning and gaining qualifications.
The experience has taught me not only me a lot about the industry and how to be a technician within this field but has given me more confidence when dealing with others and knowing that I can achieve more than what I previously believed I could.