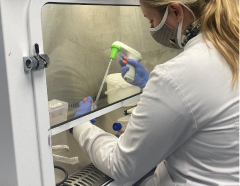 How it started
My interest in biology and biomedical sciences began with my aunt who is a cancer drug research scientist. Since before I can remember, she would always talk passionately about the depth of her work, and it inspired me to try and understand her field of practice.
Before I became an apprentice at Precision for Medicine, I was a part-time waitress at a small café and was desperately looking for a full-time job. I needed a change because I had just bought a house with my partner, had more bills to pay and did not want to be a waitress forever. I saw the job application for the apprenticeship on Indeed and knew that it would be the perfect role for me.
How it's going
I enjoy my apprenticeship as I am always learning new things. The team here are great and they are always open to my questions and are open to teaching me whenever they can. Every time someone is going to do something in the lab, they come and see if I want to watch them so that I can gain a greater insight into the work that is conducted here. As well as this, they give me organisational and inventory tasks to complete (which my OCD absolutely LOVES!).
I also like the variety of learning opportunities available to me from Tiro, including several further reading links on the Moodle courses and optional, additional level 3 courses to complete.
What the future holds
I aim to have a PhD in genetics and would love to be a specialised geneticist. I also aim to join the Register of Science Technicians (RSciTech). I have a dream of having my own genomics laboratory and being the leader of my own team. I aim to make a difference in scientific research and improve the way that medicine is developed in our current society – whether this may be a quicker roll-out of common pharmaceuticals, or whether I help with a medical breakthrough and a rare disease is cured, for example. Ultimately, I want to be a part of a process which could someday lead to a pharmaceutical breakthrough.
My apprenticeship will help me with this as it is providing me with the knowledge I require to progress in the scientific community. It also boosts my confidence and teaches me how to interact with people as a professional, as well as enabling me to learn laboratory skills along the way.