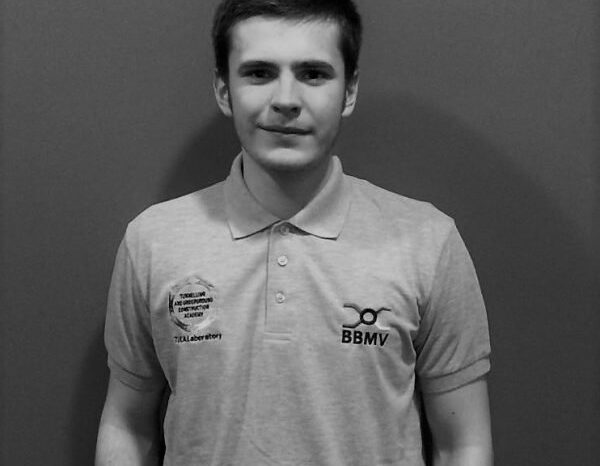 Billy joined us at a recruitment event and came across as shy and nervous despite having an abundance of technical ability. A strong mathematician with a passion for IT and Science, it seemed the role was made for him if only he could master his confidence.
Fast forward 8 months and Billy is flying. He loves the physical aspect of the role and mentions that 'there is never a dull moment' which is why he loves the job.
Prior to this Billy was working on the deli counter in a large supermarket feeling lost and unsure about his future. Billy took a shot in the dark applying for the role not expecting anything from it. He's completely turned his life around and now he's ditched the cold meats for concrete. Despite being unsure about working on a site at first he now can't imagine life away from one.
Where is he now?
Billy has very recently passed his Level 3 Laboratory Technician Apprenticeship with flying colours and received a distinction. He is now working on the A14 with Balfour Beatty. We asked him some questions about how he feels now he has come to the end of his apprenticeship journey, and what his plans are for the future. Here is what he had to say:
"I'm feeling very proud of myself for receiving a distinction on my apprenticeship. I exceeded my own and others expectations. I thought I'd get a pass but really pushed myself to achieve a distinction.
This apprenticeship is going to really help me in my career, it has given me all the fundamentals I need to know in order to excel at my job role, it has helped me have an understanding of how a laboratory works. It has also given me a foundation of knowledge that I can continue to develop in the future, I would like to complete some more qualifications and continue to learn. I would also like to pursue an HND in materials engineering or civil engineering. I definitely don't want to stop learning – I would get bored!
Everyone I work with has always seen me as one of them, being an apprentice hasn't alienated me from the other technicians that aren't apprentices. We are all part of a team – we work with each other and help each other; we are a family.
I believe now I have completed my level 3 Laboratory Technician Apprenticeship I will gain more respect in the industry, it's a recognised qualification within the industry. It is one of the first things an employer would look at when looking at a CV. I now have a certificate to prove I am a qualified lab tech and it's nice to have evidence that you have the knowledge. I can now be confident in myself to make decisions in the laboratory.
Balfour Beatty has been very supportive and accommodating, they made sure throughout my apprenticeship I received all the time and help I needed, with things like evidence gathering, competencies and such like.
During my NVQ Jerry Swatton and Ben Elkins were such a big help in pushing me to finish my Level 2 and gave me all the time and help I needed.
Andy Coates and Luke Marchant (my mentor) have also been incredibly supportive with my level 3 apprenticeship and really helped me achieve my distinction.
Youthforce and Balfour Beatty were serious about developing talent and were able to see potential in me. Without this, new candidates would not be able to excel and wouldn't be able to achieve anything.
Balfour Beatty is really pushing the apprenticeship scheme and helping to tackle the skills shortage. Their involvement with Youthforce and the initial stages of the recruitment process was great, especially the ones I've been involved in. They put a lot of faith in Youthforce to seek out new talent and are really helping to recruit more apprentices in the industry.
I have a lot more loyalty towards Balfour Beatty given the investment and support they have given me, I have worked on joint ventures and seen how other companies support their apprentices and I think Balfour Beatty is definitely the stronger company because of it. They provide so much time and support.
In the next 3 years, I hope to become a senior technician. I'd like to be doing something else in terms of learning, something like an NVQ level 4 or an HND. I just want to carry on learning and achieving new things while in this job role.
I would love to be involved in mentoring the next generation of apprentices, I feel I could talk to the next cohort and give them an honest opinion on the experience that someone can have. It helps to have someone teaching you that has experienced it first-hand.
I believe getting more young people involved is just a case of exposure, I think we need to be talking about apprenticeships more and promote them in things like meetings, roadshows, school assemblies etc. I was recently involved in a roadshow where I was in a video that was being displayed in schools. So instead of having a careers day where you fill out a questionnaire that decides what career you should take, they provide videos – and as it happens, I'm in one of them!"